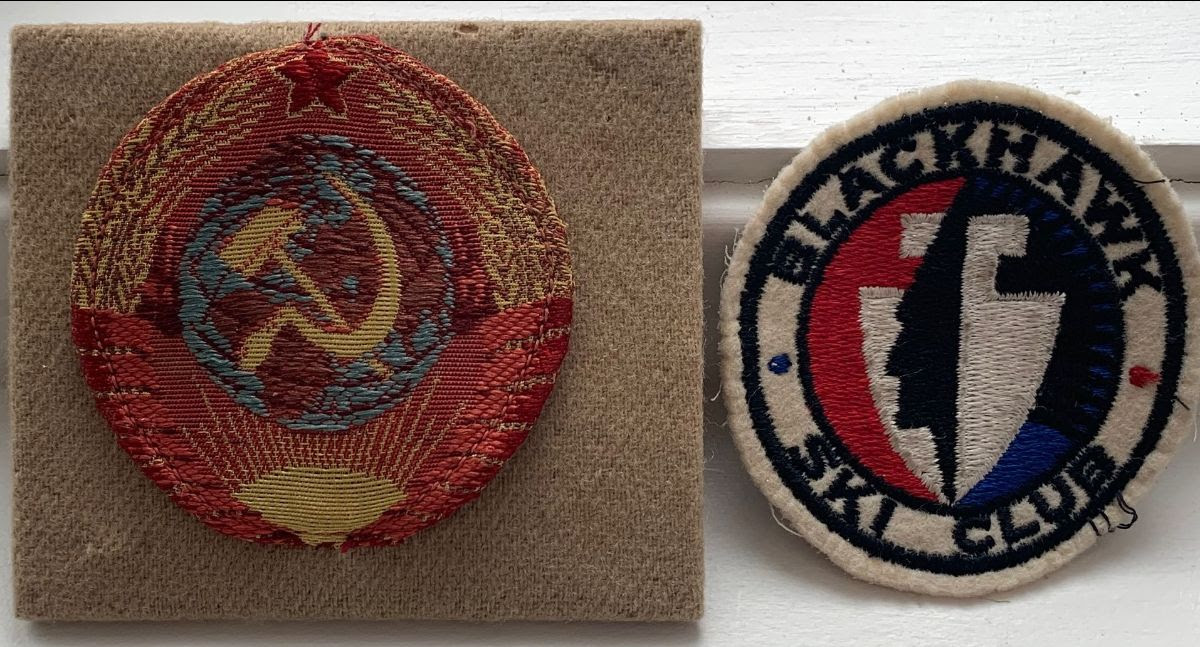 On the right, a Blackhawk Ski Club patch. One like it was traded to get the Soviet Union patch on the left that was on the sweater that Gariy Napolkov wore when he won gold medals in both the normal and large hill competitions at the 1970 FIS Nordic World Ski Championships held in Vysoky Tatre, (then) Czechoslavakia (now Slovakia). Dave has the story below.
DAVE NORBY
Blackhawk Ski Club, Madison, WI
mc3@chorus.net

A Fair Trade
In 1970 I had the good fortune of making the FIS team that competed in Czechoslovakia for the World Championships. Back then during the Cold War period we were always put up in the same accommodations as the Soviet team. Apparently no country wanted to be accused of showing favoritism to either super power. It was a good thing in my estimation because we got to know some of those guys.

I had two nice long conversations with Gariy Napalkov, winner of both Special Jumping gold medals. One day during the practice session he came over and asked if he could have the club patch on my sweater. I said he could provide he give me the patch on his sweater. He chuckled and said that probably couldn't be done but he would try. I said that was the deal, make an even trade.

After the competitions were done and we were packing up to leave I heard a knock at the door of my room. I opened it and there with a big grin on his face was Napalkov with the Soviet patch in his hand. I immediately took out my pocket knife and retrieved the club patch from my sweater. We exchanged them, shook hands and away we went.

So I have the arm patch that was on the sweater that won both gold medals in the 1970 FIS World Championships. And that is as close as I ever got to a medal!

Looking back over the years I learned a lot and met great people along the way, including all of you! Memories for a lifetime. What a great sport.